Being able to convert a PowerPoint presentation to a Word document can be very beneficial. This skill can help you edit and manage your content more effectively, share it with others in a format they are familiar with, or even repurpose the text for different audiences. Text files are much easier to open on various devices, including tablets and phones. In this article, we will look at an easy way how to convert a PPT to Word.
How to Convert PPT to Word Online?
Since there is no way to directly convert a PPT file to editable DOC, you must first change the Powerpoint presentation to PDF. Very simple instructions are below.
Step 1: Convert PPT to PDF:
Open the PPT to PDF converter.
Click "+Add File" and upload the PPT or PPTX file. You can do that from your PC memory, mobile device, or Google Drive and Dropbox cloud storage. Or drag and drop the presentation into your browser.
After PPT to PDF conversion is complete, save the created file.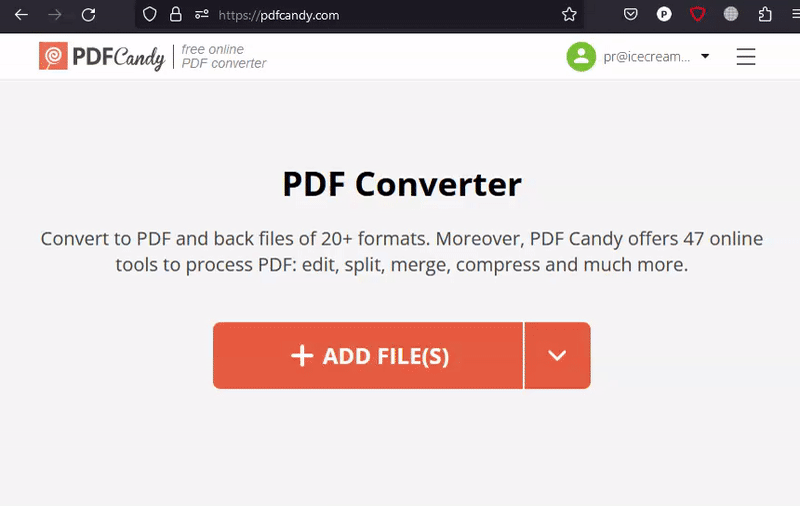 Step 2: Convert PDF to Word:
The next step to export PowerPoint to Word is to convert the PDF file to DOC format. That way you can convert the original PPT to Word. It's also very easy to do.
Open the PDF to Word converter. Upload the document as you did in Step 1.
After a short wait, the service will display a message that the operation was successful. The required Microsoft Word document is now ready to be downloaded to your hard drive, mobile device, or cloud storage.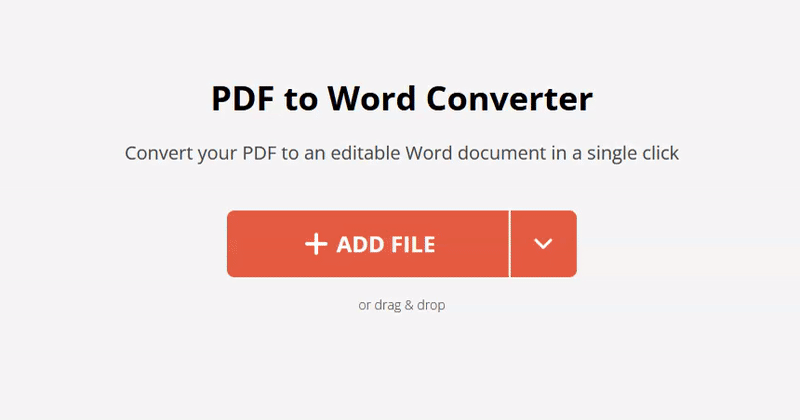 Advantages of Converting PPT to Word Online:
The resulting Word file can be easily edited due to preserving PPT formatting.
Fast operation on any device, regardless of technical characteristics and installed OS (Windows 11, 10, 8, 7, Mac, Linux – does not matter).
All you need is a stable connection to the Internet. You can work anywhere and anytime, as long as you have network access.
The interface is not overloaded with unnecessary tools and features. No learning curve.
No need to install a PPT to Word converter and make sure it is compatible with your OS.
How to Convert PowerPoint to Word with Handouts?
Turning PowerPoint to Word can be done quickly and easily using the built-in exporting capability. This feature allows you to easily create a document with all the slides from your presentation in the same format that you would use in Word.
Open the presentation in PowerPoint and click the "File" tab.
Select "Export".
Choose "Create Handouts" and then select "Microsoft Word".
Microsoft Powerpoint offers an easy way to turn PPT into Word document, but there are a few pros and cons that should be considered before taking the plunge.
Pros:
The export function is straightforward to find;
The conversion process is uncomplicated and swift.
Cons:
Some formatting, such as text highlighting or vertical spacing between elements is not preserved during the PPT to Word export process.
Images may become distorted or pixelated. This can reduce the quality of the exported document.
The Handouts method makes it easy to convert PPT files to DOC or PDF formats quickly and without any special software. It is an excellent method of keeping all of your presentations organized and ready for sharing or printing.
PPT and PPTX: What is the Difference?
If you are switching a PPT presentation to a Word document, it is essential to understand the distinction between PPT and PPTX files.
PPT (or .ppt) is the file extension for presentations saved in earlier versions of PowerPoint (97-2003). These documents will be stored on the disc as binary files.
PPTX (or .pptx), on the other hand, denotes newer versions: 2007, 2010, 2013, 2016, and 2019. These files will be saved as Office Open XML.
For users who intend to convert their slideshows into Word documents, they have to pay attention to the version of PowerPoint utilized. If the presentation was created with an earlier version (.ppt), then it will be necessary to first upgrade it to a newer version (.pptx). Only then will it be practical to export PowerPoint to Word.
Why Convert PPT to Word?
Exporting PowerPoint to Word document is often necessary for sharing and editing. In many cases, it's more convenient to work with Word than PowerPoint. Here are a few of the reasons why you should consider converting PPT to Word.
Collaboration. Word documents can be easily shared with others for collaboration on a project. You can also track changes and merge different versions of a document into one file.
Formatting. The formatting options in Word are more comprehensive than in PPT. With Word, you can easily change fonts, add text boxes, add tables, and so on.
Editing. Editing a document in Word is much easier than in PowerPoint. You can copy and paste text from other documents, spellcheck, add images, and easily make changes to the layout.
Printing. Printing from Word is simpler than printing from PowerPoint. You can print multiple copies or single-page documents without having to reconfigure your printer settings each time.
Searchability. Browsing a Word is more manageable than exploring a PowerPoint presentation. You can easily search for specific words or phrases across multiple pages and quickly find the information you need.
Switching PPT to Word greatly facilitates the ability to share, edit, format, print, and search documents. It's an important step in any project that requires collaboration or editing.
Turn PPT into Word Document: What Else to Do?
Keep Formatting. When converting PPT to Word, make sure you choose an option that preserves the layout.
Copy & Paste. In case of last resort, you can transfer each slide's contents into a Word document by hand.
Tools. Utilize online conversion tool for more precise outcomes and to expedite the process.
Edit Text. Once you have converted your PowerPoint to Word, go through it and edit any text that may have been incorrectly converted from the original presentation.
Organize Content. After conversion, it is critical to organize your content logically – use headings, lists, etc.
Check Links. Check that all the hyperlinks within the document still work correctly after conversion, as they can sometimes be broken during the process.
How to Convert a PPT to Word: Summary
To sum up, exporting PowerPoint to Word successfully necessitates careful consideration of the details. It is necessary to confirm that the slide titles are visible in the Word document and that any images or tables are correctly aligned. Additionally, ensure all fonts and colors match those in the PowerPoint presentation.
As you can see from this article, you can use PDF Candy to switch between formats quickly and easily. Not only you can convert PPT to Word, but there are also multiple supported input and output formats. Available tools for working with documents include: