In this article you will learn how to rearrange pages in PDF without Acrobat. While there are many programs for opening and editing PDFs, Adobe Acrobat remains the most popular.
Given its popularity, it is the first option for many to do anything with PDFs. Indeed, you can use Adobe Acrobat to rearrange PDF pages, too. However, while Acrobat is a great program, it is not the only tool for working with PDFs. In fact, you can reorder PDF pages online without installing any additional software, an option more in line with how we use the computer today and very helpful. Especially if you don't have time to edit the original file or if you are using a mobile device.
How to rearrange pages in PDF without Acrobat for free?
To learn how to reorder PDF pages follow these steps:
Go to the "Rearrange PDF pages" tool.
Upload a document by clicking the "+Add file" or drag-and-drop it to the browser.
Change the order of pages by moving their thumbnails with the cursor. You can delete and rotate pages, too.
Once the document looks as you like, click the "Rearrange pages in PDF" to apply the changes. The new file will be available to download. Note: the new file will not overwrite the original.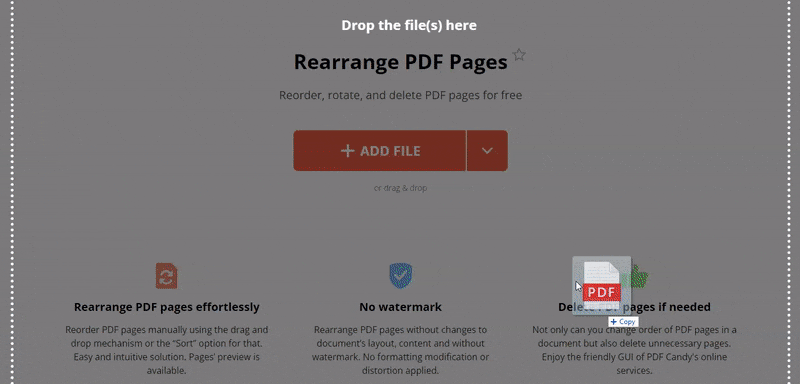 Why Adobe is relevant to PDF format?
The company Adobe Systems was behind the development of the PDF file format. PDF format is often seen when working with read-only documents. Due to its quality, content format support, lightweight, and readability, this file format is extremely popular. Thus it has many uses: from online magazines and other written materials to receipts and files ready for printing.
Although they are meant to be read-only documents, there are cases in which you may need to edit PDF or rearrange pages in PDF. Even small modifications like rearranging PDF pages are occasionally needed for fixing a faulty document at the last minute or changing the order of a presentation document when the original editable document isn't available.
Why not to use Acrobat if you need to organize pages in PDF?
Because you can rearrange PDF pages free with PDF Candy! You will find the following perks over software like Acrobat:
Runs directly in the cloud. Unlike Acrobat, this tool can reorder PDF pages online on every OS system and without installation.
It is system agnostic: works on every modern OS and browser. Our tool also runs on mobile devices.
Multiple native sharing options. Rearrange PDF within seconds and share them whenever you like. Upload the output files to Google Drive and Dropbox, get via QR code or share by a link.
Bottom Line
You have now learned how to reorder PDF pages. Nowadays, cloud-based tools are more flexible than on-premise software like Adobe Acrobat. For sure there is room for these kinds of programs, yet users have now the possibility of choosing solutions at hand, fast and secure, just a click away on their browsers.
Try other PDF tools online
Sometimes you need to change the size of document pages. Try the 'Resize PDF' tool and choose between A4, A5, A3, or the US letter presets.
Add a password to your PDF file to keep the information safe with our 'Protect PDF' option.
'Rotate PDF' – someone sent you not a file with a wrong-rotated page or even the whole doc? Change it in seconds or revert changes completely for free.