While there are many programs for opening and editing PDFs, Adobe Acrobat still remains the go-to option for many users. In this article, you will learn how to rearrange pages in PDF without Acrobat. All the described methods are free and work on various operating systems.
FAQ: Is there a way to rearrange PDF pages?
PDFs are a popular file format for sharing documents, but sometimes you need to reorder PDF pages within them. Fortunately, many options exist for completing this task without Adobe Acrobat. PDF Candy is a great online toolkit that allows you to rearrange PDF pages for free and online.
1. How to organize PDF pages online and for free?
To save time and effort, you can reorder PDF pages online without installing any additional software on your device. You can use the online PDF page arranger on a mobile phone or a computer. All you need is a web browser.
To learn how to utilize the PDF page organizer by following these steps:
Go to the "Rearrange PDF pages" tool.
Upload the PDF to change the page order by clicking the "+Add file" or drag and drop it to the browser.
Move PDF pages around using the thumbnails with the cursor. You can delete and rotate pages, too.
Once the document looks as you like, click "Rearrange pages in PDF" to apply the changes.
The new PDF will be available on the "Done" page with the "Download file" button. Note: the new document will not overwrite the original.
After you are finished, upload the output files to Google Drive and Dropbox, get via QR code, or share by a link.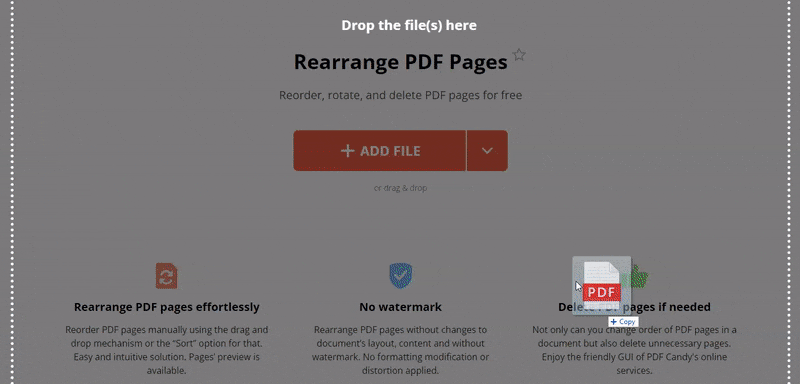 This method to sort PDF pages can be used on any Android phone, on iPhones - Pro, ProMax, Mini, SE, Windows computers, Macbooks and iMacs. The online platform is supported by the majority of modern browsers - Google Chrome, Safari, Mozilla Firefox, Edge, etc.
The website's additional functionality includes tools to extract pages from PDF, convert to and from PDF such formats as DOCX, Excel, and others, employ the PDF optical character recognition instrument, and more.
FAQ: Is there an app to rearrange PDF pages on Mac?
Yes, while you can find specialized software designed for MacOS. However, many of them will not come for free or have limited access that comes at no cost. However, you can sort PDF pages on your Macbook or iMac with the built-in Preview editor.
2. How to change the order of pages in PDFs on Mac?
Preview is the default app on Macs for viewing and editing PDFs. The program allows you to organize PDF pages on your Apple computer without the need to install Adobe Acrobat.
Here is how to rearrange PDF pages for free with this software:
Open the PDF in the application.
If the sidebar is hidden, go to the "View" menu and put the check mark to the "Thumbnails" option. Alternatively, use the Option + Command + 2 hotkey combination.
To move PDF pages, pick one and drag it to a new position in the sidebar. Let go of your mouse when the page is in the desired order.
Once you are happy with your arrangement, in the menu "File" hit "Save" or hit the combination of Command + S on your keyboard.
Keep in mind that your changes will overwrite the original file. Hence, before you open the PDF to change the page order, make sure to save a copy of your initial document.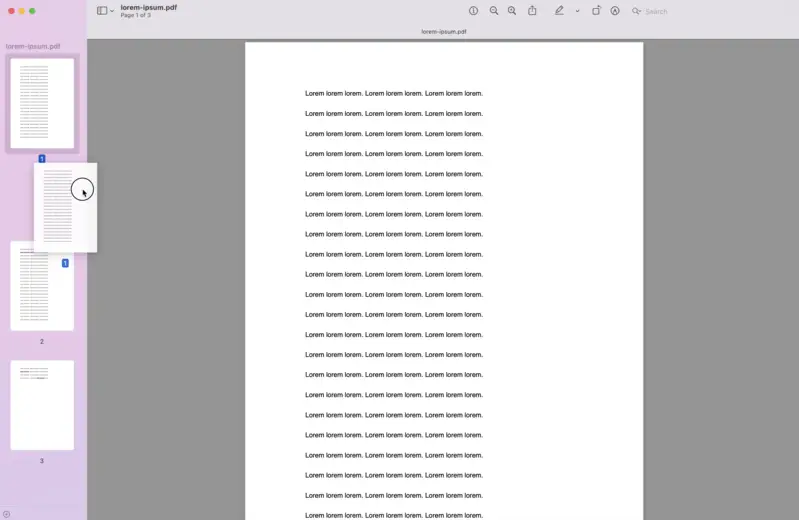 Utilizing Preview as the PDF page organizer is easy once you know how it works. It is free and necessitates no supplementary software, making it perfect for quick edits. It is a great one-stop app for all your basic editing needs, such as signing a digital document, highlighting in PDF, or adding new text.
FAQ: How do I reorder pages in a PDF in Windows?
You can use the online PDF page organizer without the need for Acrobat, on any device, including computers and laptops with Windows 11, 10, 8, 7 and other versions of the OS. If you prefer a desktop app rather than reordering PDF pages online, read the method described below.
3. How to rearrange pages in a PDF on Windows?
If you are a Windows user, you also do not necessarily need Adobe to organize pages in PDFs. EaseUS PDF Editor can be a good choice. With its intuitive interface and supplementary features, you can easily utilize the PDF page arranger and perform additional edits to your file.
Below is the guide on how to reorder pages in PDF with this program:
Download the software to your Windows computer and open it.
Go to the "File" menu and hit "Open" to upload the PDF to rearrange pages to the editor. You can also use the Ctrl + O combination to do so.
Press the "Pages" button to open the thumbnail preview of the pages.
Click and hold the page you want to move and drag it to its new location. Release it when you are ready to drop the page into place.
Repeat this process until you sort all PDF pages in the desired order.
When you are done, click "Save" in the "File" menu or hit Ctrl + S hotkeys on your keyboard.
Taking advantage of the EaseUS PDF Editor is an excellent way to rearrange your PDF pages without having to use Adobe Acrobat or any other paid software. Using it does not require any technical knowledge - just drag and drop! So if you need to move PDF pages around, annotate, encrypt, or compress a PDF, give this application a try!
Why Adobe Acrobat is relevant to PDF format?
The company Adobe Systems was behind the development of the PDF file format. PDF format is often seen when working with read-only documents. Due to its quality, content format support, lightweight, and readability, this file format is extremely popular.
Thus, PDF has many uses: from online magazines and other written materials to receipts and files ready for printing. Given its long time history, Adobe is the first option for many when they need to do anything with PDFs.
Although they are meant to be read-only documents, there are cases in which you may need to edit PDF or rearrange pages in PDF. To fix a faulty document, like a presentation, at the last minute, you may need to change the order of pages in a PDF when the original editable file is not available. While Acrobat is a great program, it is not the only tool for working with PDFs. Plus, its subscription cost is quite expensive.
Only in this article, we have mentioned 3 different ways how to reorder pages in a PDF. There are countless other similar online services and offline programs, both free and paid. They all help organize PDF pages and perform other manipulation with files in this format.
How to rearrange pages in pdf without Acrobat: conclusion
You do not have to install Adobe to organize pages of a PDF file. Nowadays, you can rearrange pages in PDF with an online PDF page arranger or download a desktop program that will help you do it.
Most of the time, such tools come in conjunction with other instruments to further edit, compress, or convert PDF files - often completely free. This makes them a decent competition to what Adobe can offer with the paid subscription.
Review the provided option and see which suits your needs best!
Try other PDF tools online
Sometimes you need to change the size of document pages. Try the "Resize PDF" tool and choose between A4, A5, A3, or the US letter presets.
Add a password to your PDF file to keep the information safe with our "Protect PDF" option.
"Rotate PDF" – someone sent you not a file with a wrong-rotated page or even the whole document? Change it in seconds or revert changes completely for free.