Windows 10 is the most popular version of the OS from Microsoft. Acquiring an understanding of how to convert JPG to PDF could be very advantageous for anyone looking to quickly share images or documents with others. It can be especially helpful for those who require to transmit digital documents via email, upload them to a website, or print out.
In this article, we will look at 5 ways to convert photo to PDF on Windows 10. All these methods will also work for 11, 8, and 7 versions of this operating system.
1. How to Convert JPG to PDF Online
This is an online method that will work best for users with limited system memory. It does not require installation on your computer and transforms JPEG and JPG to PDF exclusively in your browser. In order to change JPG to PDF on Windows, follow the instructions below.
Open the JPG to PDF converter.
Upload your image from PC, Google Drive, or Dropbox. Bulk conversion is supported, too.
Select the size of the final PDF file: A4, Original, or US Letter. Specify the margins: large, small, or no margins.
Click the "Convert" button to turn JPG into PDF.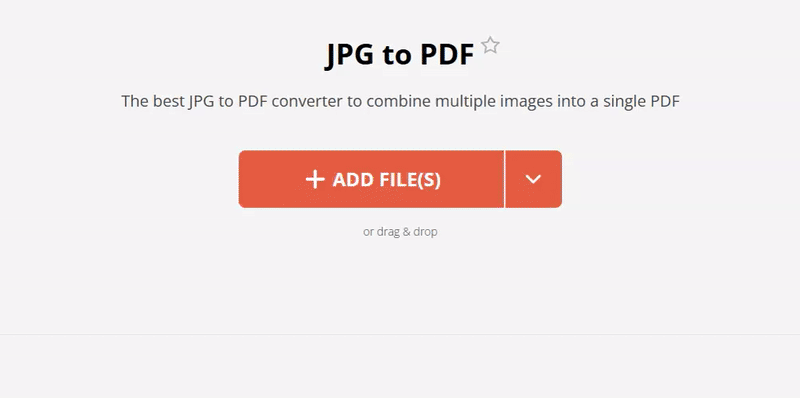 Benefits of Using Online JPG to PDF Converter:
Can be opened in any preinstalled browser;
It's free and straightforward with no software downloads required;
You can upload up to 100 files at once for bulk conversion;
The online service is completely secure and private;
Your files are converted quickly with no loss of quality;
Convert and merge JPG, JPEG, PNG, GIF, BMP, and TIFF files;
Wide customization options: change page orientation, and margin sizes;
Share the result by URL or download files to cloud services;
It supports multiple languages including English, Spanish, French, German, and Italian, among others.
2. How to Convert JPG to PDF on Windows 10 Offline
The following picture to PDF conversion method is suitable for working offline and does not require an Internet connection. PDF Candy Desktop allows you to convert files to PDF and vice versa without using the network. To create PDF from images on Windows 10 follow the guide below.
Download PDF Candy Desktop for Windows, install it on your PC. Open it.
Find the "JPG to PDF" tool and click its icon.
Now use Windows Explorer to select the necessary graphic files that you want to convert. Or just drag and drop pictures on the tool icon. The offline JPG to PDF converter supports bulk image conversion.
You can modify the resulting file by utilizing the gear icon next to the queued image. This way you can adjust each file's settings individually. Scale images, select the final paper and margin size, position, and orientation, as well as the rotation angle. Apply the "Merge all into one PDF file" to create a single document with all the images added to the queue.
Select the output folder and click the "Convert" button.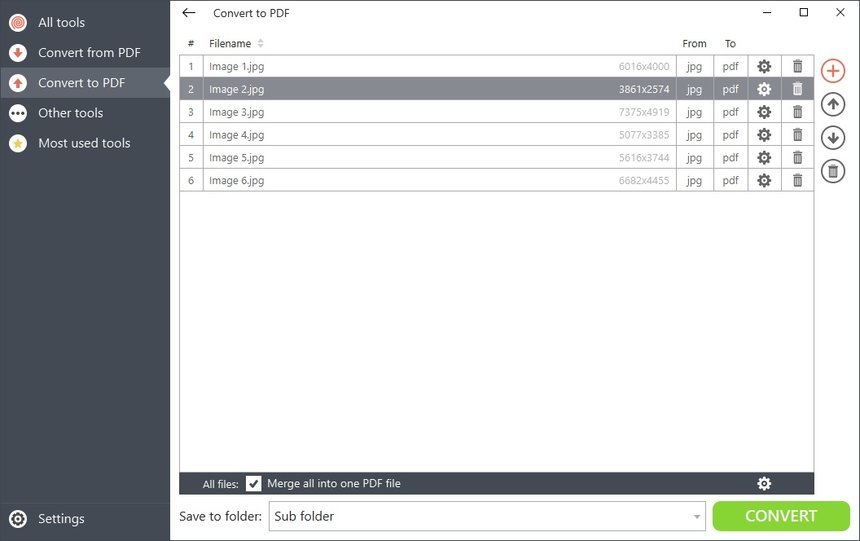 Pros of Offline JPG to PDF Converter:
The user interface of this software is very intuitive and user-friendly;
You can secure your output documents with a password;
It is possible to try the software for free;
Desktop version works offline;
No limit to the quantity and weight of files;
Supports Windows Vista, 7, 8, 8.1, 10.
3. How to Turn Picture into PDF with Windows Photos
This method is done through a native Windows OS program Windows Photos. The disadvantage is that it doesn't offer any further additional editing of the created document. To convert JPG to PDF on Windows 10 or 11 by applying this method, follow these steps:
Open your image with Windows Photos.
Click on the icon with three dots and select the "Print" option. Or press the key combination Ctrl+P to open the print menu.
In the Printer section, set Microsoft Print to PDF. Select the paper size and final quality. You can also adjust the image size in the left column of the window.
Click "Print", and then specify the file name and folder where the turned picture to PDF will be saved.
Pros:
It's extremely simple and straightforward;
No need to install any additional software or pay for any subscriptions;
The resulting file is high quality and easy to share.
Cons:
You can't convert multiple JPG to PDF;
You cannot edit the converted file (e.g., add text, change colors, etc);
It takes longer than previous methods (e.g., online converters);
It does not support some advanced instruments, such as password protection or watermarking.
All in all, the Windows Photos application is an excellent choice for transforming JPGs into PDFs if you don't require any complex changes or have a tight deadline. However, if you need more options or wish the process to be faster, you may want to look into other methods of conversion.
4. How to Turn Image into PDF in a Browser
Modern browsers feature an outstanding integrated capability that makes it simple to transfer JPG to PDF. The function enables users to easily convert image to PDF on Windows 10, 11. How?
Open the file to convert from JPG to PDF in the browser. This can be done in Google Chrome, Mozilla Firefox, Opera, and other browsers.
Go to the File menu and click Print.
From the Print dialogue box, select Print to PDF among the list of available devices.
Press "Save" to convert your image to a PDF document.
Type a name in the File Name box and click "Save" once again.
Pros:
Conversion of JPG to PDF is simple;
You don't need any extra software or tools to use this method;
The conversion process is very quick, so you can be sure your files will be ready in no time.
Cons:
Images may come out pixelated or blurry. This is specifically crucial when you convert higher-resolution image to PDF;
There are limited features available with Print to PDF, which means you won't be able to edit your file as much as you could utilizing other methods;
If you have large files, this method won't work as it only supports smaller ones;
It is possible to convert only one file at a time.
Using Microsoft Print to PDF means it's a native Windows feature, so it requires no additional software or applications. Plus, it's free and easy to use. On the other hand, it doesn't provide as many options as third-party applications do and may not be suitable for large files or complex documents.
5. How to Convert JPG to PDF with Adobe Acrobat
Adobe Acrobat Reader provides a powerful tool for converting image files such as JPG to PDF. It is easy to use and the results are high quality. Here are the steps needed to do this:
Download and install Adobe Acrobat on your computer.
Open the program and choose "Create PDF" from the highest menu bar.
Select the image you want to convert, then click "Open".
To save the file, select "File" from the uppermost menu, then click "Save As".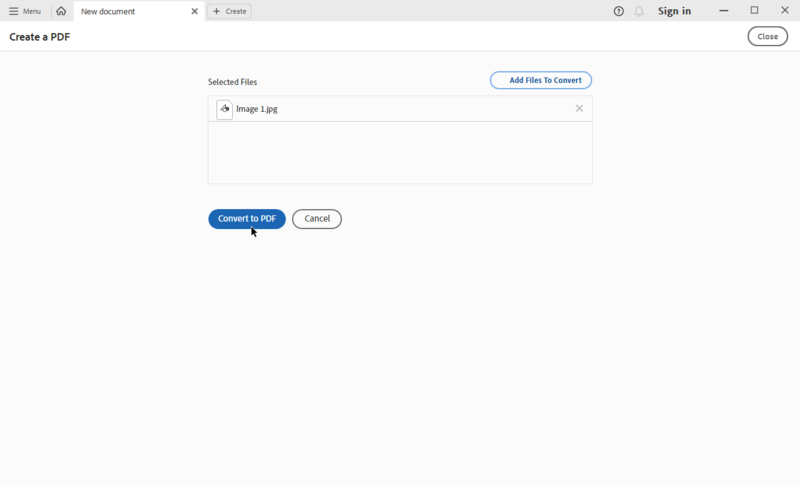 Pros:
Anyone, even a novice user, can quickly convert image to PDF with the help of Adobe Acrobat;
Adobe Acrobat will generate excellent PDF documents from your JPG images.
Cons:
Adobe Acrobat isn't free, so you'll need to pay for the software if you want to use it for picture to PDF conversions;
In some cases, you may not need the advanced features of Adobe Acrobat and could use a simpler program instead.
Overall, Adobe Acrobat makes it easy to turn JPG into PDF quickly and efficiently. However, it's important to consider the subscription fee for advanced features before committing.
Reasons to Use Image to PDF Converter
Are you tired of dealing with large file sizes? Do you want to guarantee that your documents are secure? One efficient approach to do this is by converting JPG to PDF. Here are some reasons why you should consider this conversion on Windows 10:
Save Space. PDFs can take up much less place than JPGs, so you can store more files in the same amount of disk space.
Security. PDFs are much more secure than JPGs and can be easily password protected. Change JPG to PDF to ensure that your files remain private and secure.
Compatibility. PDFs are universally compatible across different operating systems and devices, so your documents can be distributed and accessed on any device.
Better Quality Prints. If you need to print out your documents, a PDF will provide superior prints than a JPG.
Easy to Edit. Editing PDFs is much easier than altering images, so you don't have to worry about losing any of your changes or formatting.
Converting JPGs to PDF is an easy process on Windows 10, and the benefits of doing so are clear. With better security, compatibility, and quality prints, it's well worth considering this conversion for all your documents.
JPG to PDF Converter for Windows: FAQ
Q1: What is the most efficient method of turning JPG to PDF for Windows 10?
A1: Transforming JPG images into PDF documents on Windows 10 can be done rapidly by using an online JPG to PDF Converter.
Q2: Is it possible to create PDF from images online without charge?
A2: Yes, all the 5 described methods let you switch JPG files into PDFs for free.
Q3: How do I add a signature or watermark to my converted PDF file?
A3: To add a watermark or signature in your output PDF file, you can utilize an online service or software. They allow you to edit the content of your PDF documents and add text, images, and other elements, including watermarks and signatures.
Q4: Can large documents be transformed from JPG to PDF promptly?
A4: Yes, it is possible to convert large picture to PDF using the desktop PDF converter. It offers advanced features such as batch processing and optimized compression algorithms that allow large files to be processed faster than with other methods.
Q5. Will there be a decrease in quality when changing from JPG to PDF?
A5. When transforming from a picture to a PDF document through a Print to PDF tool or an online conversion service, no degradation in quality should occur. However, if you edit the image before conversion then some quality may be lost depending on how you edit it and save it as a new file format (e.g., JPEG or PNG).
Convert JPG to PDF: Summarizing
We have described three ways to convert an image to a PDF. By adhering to these options, you can ensure that your JPG file is successfully converted into a PDF format that is easy to view and share. While there are many ways to complete this task, following these steps will ensure that it is done quickly and without any problems. With the click of a button, you can convert your JPG documents into PDFs for simple viewing and distribution. All three methods are very popular, easy, and free.
Before sending your document to your colleagues or friends, do not forget to apply changes: