There are many cases for which you need to know how to combine PDF, including:
Correcting a document by adding missing or additional pages.
Adding images to a PDF file.
Merging PDF documents that you edited separately into one.
Joining files into one for easier printing or sharing.
In this article, you will learn how to merge PDF online, as the online method certainly has many advantages over offline.
How to combine PDF online?
Go to 'Merge PDF' tool.
Click +Add file(s) or drag and drop them. Or upload a document from Google Drive or Dropbox cloud storage. Note: In addition to PDF format, you can use this tool to combine PDF with images.
Thumbnails of the downloaded files will appear. Rearrange them in the order you want, add new files, or delete some if they were uploaded by mistake. You can also arrange them in alphabetical order by clicking the "Sort: A-Z, Z-A" buttons.
Click Merge files to combine PDF online.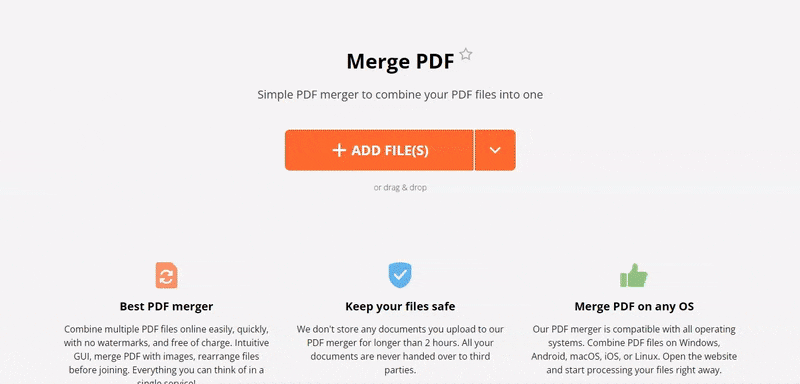 The best way to merge PDF online
Since you combine PDF file online, the merging takes place on our side using our powerful servers. This guarantees a high speed output file creation. In addition, you are not required to download and then install software, which can also be time-consuming.
Our service allows you to merge PDF files right in your browser. So you can do it on your PC or smartphone, and on any OS.
What's more, we handle your data securely. Our PDF Combiner automatically deletes merged files from our servers after two hours. Alternatively, you can delete them manually when needed.
Continue working with the created PDF
Once you learn how to combine PDF online, feel free to explore many other tools, including additional options for protecting your files. In this regard, we give the opportunity to use a passcode to protect documents. To do so, once you join PDF files, check the buttons below the Download file one and click on Protect PDF.
Or easily compress PDF so you can shrink the created PDF to make sure it is suitable for sharing or sending by email.
OCR a PDF if you're working with scanned documents. Read more on what is OCR if you're not familiar with this term.