The CHM (Compiled HTML Help) files contain help information and can also contain links, images, databases, and other content. Since opening files of this type is quite problematic, the best option is to convert. Today we present you a detailed instruction showing how to convert CHM to PDF using free online service in just 1 click.
Convert CHM to PDF: Instructions
Open the CHM to PDF converter in your browser.
Then upload the file you need to convert from your computer or mobile gadget. You can also use Google Drive and Dropbox.
Automatic file conversion starts.
Now you can save the PDF file to your device or upload it back to the cloud storage. At this stage, avail yourself of additional PDF processing tools.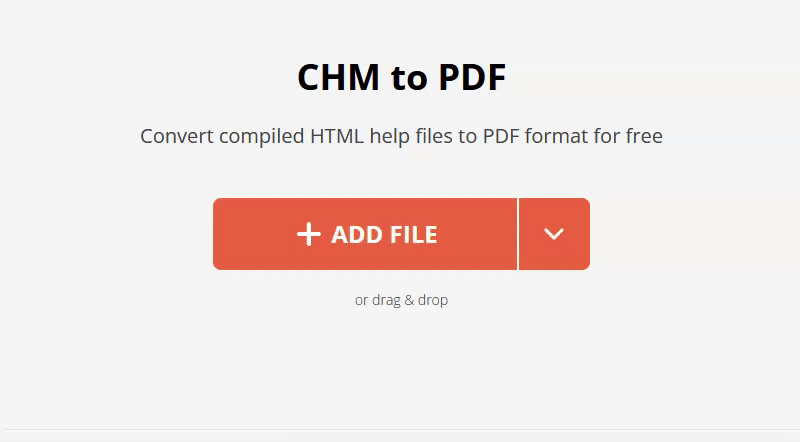 Advantages of the online CHM to PDF converter
Convert CHM to PDF anytime, anywhere;
Fast operation on all devices, regardless the browser used;
Compatibility of both uploading and downloading to cloud storages;
Does not require installation and high technical characteristics of the gadget;
A clear and colorful interface will provide comfortable work, and will not cause problems in understanding the software;
Constant platform and conversion algorithms updates;
Extensive blog to help novice users with any questions.
What is CHM file
Compiled HTML, which is the full format name, can be translated in a nutshell as HTML help. It is a complex of archives of LZX files, which are often linked. Used mainly by Windows operating systems and contains all the necessary reference documentation for the correct operation of the OS. The standard was developed by Microsoft in 1997 for the Windows 98 platform and subsequent future versions, up to the modern eleventh series.
There are also books in this format, as it is able to carry not only text, but also hyperlinks, images and other objects. CHM files have been deeply optimized for read-only. Thus, if you need to edit such files, it makes sense to convert CHM to PDF. PDFs can be easily edited using the appropriate service.
Advantages of CHM files
All data is in one place in one archive file;
There is an integrated full-text search system;
The LZX compression algorithm can significantly reduce the file size;
Supports help modules, tables of contents and indexes that are generated at run time;
If CHM is downloaded from the Internet, the operating system protection will block this action, which ensures high security. Requires direct user intervention to unlock the download.
Conclusion on how to convert your CHM to PDF format
Working with CHM files can be difficult for people who do not deal with HTML files on a daily basis. It is therefore better to send colleagues the information they need in the much more versatile PDF format. Such documents are easy to password protect or to comment on. If you wish to amend you PDF files check the following articles:
Add watermark to protect your data.
Delete pages from PDF so that your clients would receive only the main information.
Find out how to compress PDF file to send a package of documents without problem.