Looking for an easy and intuitive way to convert Word documents to PDF in Windows 10? It can be pretty simple if you know how to handle it. We'll cover four different ways how to do it in this article. With both online and offline ways presented, everyone can choose a way that is convenient for them. By learning our methods, you can be sure that everyone sees your file exactly as you intended.
1. How to convert Word to PDF in Windows 10 online?
One of the easiest ways to convert Microsoft Word to PDF is an online tool that offers a reliable way to transform your files.
Below is the step-by-step guide on how to use DOC to PDF converter:
Open the "Word to PDF" tool in your browser.
Upload the Word document by pressing the Add File button. Also, you can drag and drop it.
Once uploaded, the document to PDF conversion will start automatically.
Download the result.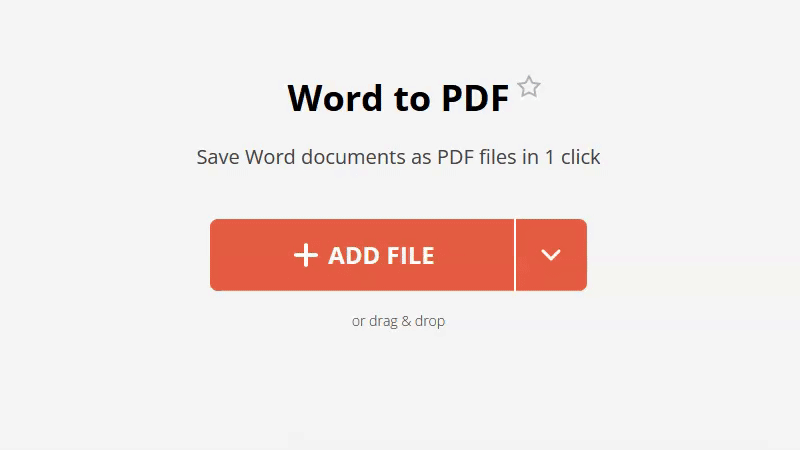 That's it! You can now enjoy your converted file without any hassle. The benefit of an online service is that you don't need to install any software. You can access the service from any computer with an internet connection. It also allows you to convert your files from PDF back to Word. Plus, it's free and secure.
In addition, you have the option to upload your text documents from Dropbox and Google Drive for the further conversion. You can save the output files to these cloud storage services, too.
2. How to turn a Word document into a PDF on Windows 10 offline?
We all know internet access is not always secure, especially when traveling. That's why it's essential to have an offline solution for specific tasks. In this case, you can use a desktop program.
Using this universal software to convert Word to PDF in Windows 10 is straightforward. Here's a guide:
Download and install PDF Candy Desktop for Windows.
Open the program and select the "Word to PDF" option.
Select the Word file you want to convert into PDF format.
Preview the file before conversion and adjust the settings according to your preference.
Click the "Convert" button to locate the PDF file.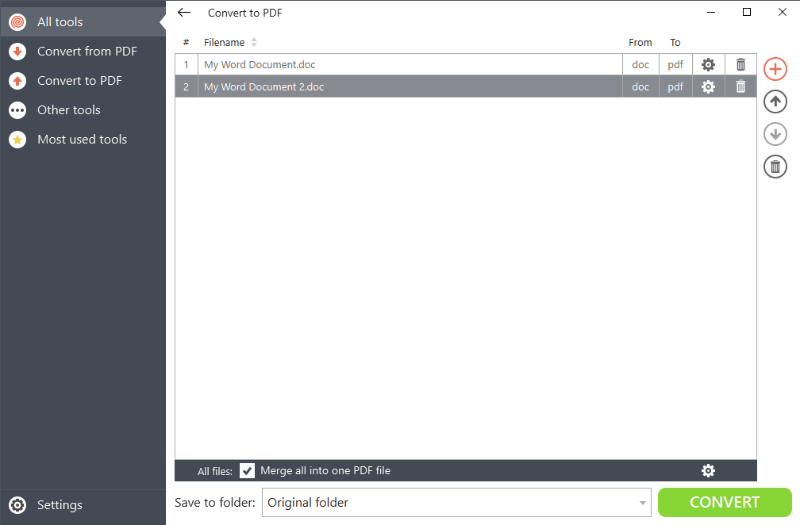 The advantage of the desktop version is that you can add more than one file in a row and also merge them in a queue into one PDF document. It is not necessary that the documents have the same format, they can be different. Before the start of conversion it is possible to password protect the PDF in the settings. So, if you need a reliable offline solution to convert Word documents to PDF, this desktop software is worth considering.
This program works not only on Windows 10, but also on Windows 11 and earlier versions of 8 and 7.
3. How to save a Word document as a PDF with Google Drive?
The internet is a powerful tool for accessing information and resources. With a few clicks and some basic know-how, it's easy to convert DOC to a PDF file. Follow the instruction on how to convert Word to PDF with Google Drive:
Go to Google Drive.
Log into your account or create one.
Select the DOC you wish to convert and click "Open".
Press "File" in the top left corner of the cloud and choose "Download as" in the menu.
Select "PDF Document (.pdf)", then click "Export".
If your Word text document is already uploaded to Google Drive, you can open it in Google Doc. Convert it to PDF with ease, that option is also possible!
4. How to convert Word to PDF on Windows 10 with Print to PDF?
Creating a PDF document from any file on Windows 10 can be done quickly and easily. The Print feature is an effective way to do this. It allows you to convert a Word document into a PDF with no additional software. In addition to being free, this method offers high-quality results and a straightforward process.
Here's how to use it:
Open your document in any text editor of your choice (Microsoft Word, OpenOffice Writer, etc.).
Click File and select Print from the dropdown menu.
Select Microsoft Print to PDF from the list of available printers in the printer window.
Press "Print", and the "Save As" window will appear.
Choose a location to place the file and name it as desired, then click Save.
Using this feature is simple convert DOC to PDF without any fuss or extra costs. You can also use it to print directly onto physical paper if you need to keep a hard copy of your file.
Final words on changing Word files to PDF format on Windows
There are four elementary techniques to convert Word documents to PDF on Windows 10. All of them are quick and easy to use, and they will help you create professional-looking PDFs from Word documents. Using the means outlined in this article, you should now have the necessary skills for converting Word to PDF.
In addition, you can use other online tools to continue editing your newly converted PDF file:
Use the "PDF Compressor" to stay within the limits of your email provider settings.
Extract pages you don't want to share with "PDF Splitter".
To remove or add extra metadata, try the "Edit Metadata" tool.